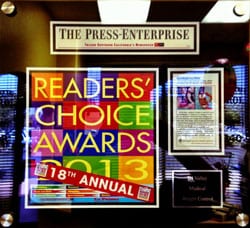 We're excited to announce that we have been voted the #1 Weight Loss Clinic by the Press Enterprise Readers in Inland Empire, and have received the Reader's Choice Award for 2013! Starting in mid-January, we were nominated for the Reader's Choice Awards 2013, among hundreds of other award categories across the web. This year's Reader's…
Linda has been coming to our Murrieta weight loss clinic for 60 days and has lost 18 pounds.
Paige has been a patient for 3 weeks and lost 20 pounds.She was referred by friend in Menifee CA that experienced amazing weight loss.